Today's News
Record Year for Legionnaires' Disease in New York Called 'Troubling'
WASHINGTON – More than 1,000 cases of Legionnaires' disease were reported in New York State in 2017, and New York City saw cases of the waterborne disease spike 65 percent, exceeding the record number of cases in 2015, which was fueled by an outbreak in the Bronx. Read More...
Steamatic Opens New Franchise in Alabama
FORT WORTH, TX -- Steamatic, Inc., a provider of restoration and cleaning services, has announced the opening of a new franchise in Daphne, AL to service Mobile and Baldwin counties. Read More...
QBE Joins Tangram to Expand Janitorial Insurance Offerings
NEW YORK -- QBE North America, an integrated specialist insurer, and Tangram Insurance Services, a national program administrator, have announced a strategic program alliance to provide tailored and competitive package products to commercial building service companies who serve janitors, painters, paper hangers and carpet cleaners. Read More...
Pacific Floorcare Extends Warranty on Orbital Scrubbers
MUSKEGON, MI -- Pacific Floorcare, a manufacturer of premium-specification, commercial cleaning equipment, has announced a key enhancement to its Orbital Scrubber warranty.  Read More...
Terracon Expands Facilities Services with Buy of Engineered Concepts
OLATHE, KS – Terracon, an engineering firm, has announce the expansion of its facilities services capabilities through the acquisition of Engineered Concepts of Greensboro, N.C., effective immediately. Read More...
Toilet Twinning: Cleaning Contractor Commits to Charity Campaign
LONDON -- A British cleaning company has committed to giving every new toilet it maintains this year a thorough cleanse and a toilet twin. Read More...
Chicago's Willis Tower Selects Entic for IoT Efficiencies
FORT LAUDERDALE, FL -- Entic, a provider of IOT and smart building technology, has been selected by Willis Tower to deliver increased operational efficiency and utility savings to the iconic 110-story skyscraper at the heart of Chicago's skyline. Read More...
Ingersoll Rand Joins Mitsubishi for VRF HVAC in U.S., Latin America
SWORDS, Ireland and TOKYO -- Ingersoll-Rand plc, a provider of technology for sustainable and efficient environments, has joined a venture with Mitsubishi Electric Corporation to distribute ductless and VRF heating and air conditioning systems Read More...
For New Strategies, Afflink Suggests Taking Pulse of Customers
TUSCALOOSA, AL -- The beginning of the year is when most businesses evaluate what happened the previous year -- pro and con; based on this, they decide what new steps and strategies they should take to start the new year out fresh. Read More...
ACI Names Cothran to Strengthen Membership Team, Promotes Four
WASHINGTON -- The American Cleaning Institute (ACI), a trade association for the cleaning product supply chain, has named Ann Cothran Senior Manager for Membership, a new position, and announced promotions of four team members in its government affairs, scientific and administrative groups. Read More...
Industry News
Commercial Cleaning
Urine and Other Odor Control in Public Restrooms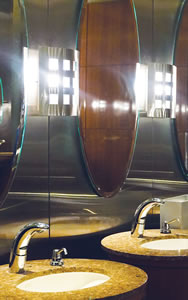 Urine stains and odors are two of the toughest jobs in the restroom and can make an otherwise clean facility seem undesirable.
The results of a consumer survey conducted by the Clorox Professional Products Company show that two-thirds of Americans would refuse to patronize business establishments, such as restaurants or hotels, because of dirty restrooms.
To read this article in its entirety, click here...