September 2021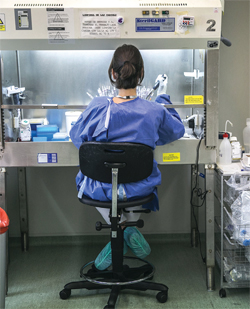 Slips and falls can happen anywhere; any time, and to anyone. Whether it's a visitor, customer or your own employee, what matters most is that your business is taking the necessary steps to develop and implement a slip and fall prevention program.
Business insurance provider CNA Risk Control has found that a critical component of these programs is addressing the slip resistance and maintenance of interior floors to reduce exposures.
In "Slip and Fall Study Report: Enhancing Floor Safety through Slip Resistance Testing, Maintenance Protocols and Risk Awareness," CNA Risk Control walkway specialists examined and tested hard surface flooring in commercial settings. The results revealed that a significant percentage of businesses are failing to adequately address flooring selection and ongoing maintenance of these surfaces.
Key findings include the following:
• Half of all facilities with public access and common areas that CNA studied have potential for slips and falls. In a two-year
study of hard surface floors in commercial workplaces, 50 percent of surveyed sites did not produce a dynamic coefficient of friction (DCOF) level, the measurement of a surface's slip resistance while in motion, above the minimum threshold set by the American National Standards Institute (ANSI).
• Slip and fall claims occur overtime with more frequency than severity. In a six-year review of slip and fall liability claims, CAN found trends of high frequency, but low severity – a finding consistent with claim experiences in the greater risk control industry for commercial buildings. While many employers may worry about the high cost of severe slip and fall claims, frequency should not be ignored. Full story »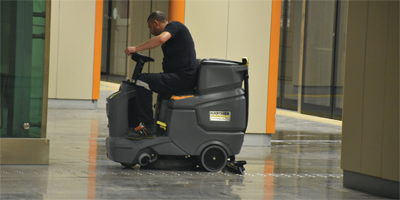 Businesses are working hard to create safe and inviting environments that instill confidence in customers and employees. At the same time, both business owners and consumers are facing higher costs for food and beverage
items and essentials like toilet paper and paper towels.
Paper products are critical for supporting public health at home and in these away-from-home environments. Thus, it's important to understand the current state of the economy, the paper industry's inner workings and how best to meet evolving consumer expectations in this new age of enhanced hygiene.
Whether businesses are selling awayfrom- home products or directly to consumers, they have likely been affected by recent commodity price increases, inflation and demand spikes, said Derek Dafoe, a senior vice president for sales& marketing at Sofidel. Full story »
today's news
ELMHURST, IL -- Bird-X, a provider of humane, wildlife control products, and Tri Lite, a specialty dock lighting and safety equipment manufacturer, have completed a merger intended to streamline operations for both companies.
BOSTON – Calling 31 fatalities in five years 'alarming' and 'unacceptable,' OSHA's Boston office has established a Regional Emphasis Program that combines enforcement and outreach for employers of landscapers and tree trimmers in New England.
NEEDHAM, MA -- United Property Restoration is expanding its New England presence with the opening of a new office in Needham, Mass. to serve Greater Boston and the surrounding area.
HOLMDEL, NJ -- WorkWave, a provider of SaaS solutions that support every stage of a service business's life cycle, has signed an agreement to purchase TEAM Software, the world's leading provider of software and solutions for cleaning, janitorial, security, and facilities management service providers.
NEW YORK -- Continued broad-based demand helped ABM, a provider of facility solutions, post a double-digit increase in revenues in the third quarter of fiscal 2021.
MONTREAL -- BrainBox AI, a developer of autonomous building technology, has partnered with KMC Controls, a manufacturer of open, secure, and scalable building automation and technology solutions.
FORT LAUDERDALE, FL -- CSI International, Inc., a facilities management services provider, is one of the first dozen providers in the world and the first in Florida to receive the GBAC STAR accreditation from ISSA.
ALEXANDRIA, VA -- In the interest of public health and safety, the 2021 World Aquatic Health Conference will be held as an entirely virtual format Dec. 7-9.