November 2020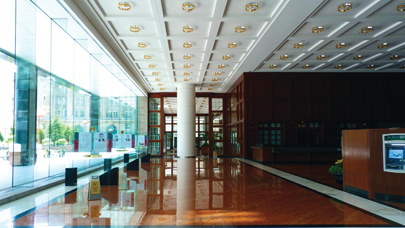 PPG, a developer of protective and marine coatings, has announced the launch of PPG Flooring coatings, a comprehensive line of coating systems that include prime coats, base coats and topcoats and are tailored to provide optimum performance based on the specific work environment.
Users can choose from four flooring coating systems – general purpose, wear resistant, chemical resistant and urethane cement – with additional customization options.
"Contractors and facility managers want to be confident that they are using a flooring product that will deliver optimum protection for their operating environment," said Juanjo Ardid, PPG vice president, protective and marine coatings, U.S. and Canada.
"PPG Flooring coating systems include products that are specifically engineered to work together and deliver benefits such as resistance to impact, abrasion and certain chemicals. Our goal with this new, expansive line was to make specification quicker and easier for flooring customers."
All PPG flooring coating systems are designed for durability, ease of installation and low volatile organic compounds (VOCs). They are also optimized for specific end-use requirements, including:
General-Purpose Flooring: PPG's twocoat system – a concrete epoxy primer and self-leveling epoxy basecoat – is the most economical of the new offerings. It is easy to apply and provides moderate chemical and abrasion resistance.
Wear-Resistant Flooring: For added durability and impact resistance required for high-traffic areas, PPG offers a wear-resistant urethane topcoat in addition to its general-purpose system of primer and basecoat.
Chemical-Resistant Flooring: An epoxy siloxane gloss or satin topcoat added to the general-purpose system provides a tight film barrier against a variety of oils, acids and chemicals.
today's news
PHILADELPHIA -- Aramark, a provider of food, facilities management and uniforms, has introduced AIWX Connect, a new building and asset management solution designed for owners and operators, to help them deliver a safer and better performing workplace experience.
LOS ANGELES -- AECOM, an infrastructure consulting firm, has announced that the U.S. Army Corps of Engineers (USACE), have selected the firm to design the renovation of the U.S. Air Force Academy's Sijan Hall, which is located just north of Colorado Springs, CO.
NEW YORK -- iBUILT, a new design-build-operate company powered by state-of-the-art technology, officially launched last week to transform the world's largest industry construction—to deliver complete buildings of up to 35-stories anywhere in the country.
PHOENIX, AZ -- Faciliteq, a workplace solution provider in the Southwest, is set to open its newest adaptive reuse project in November.
ALPHARETTA, GA -- As the movement to reduce the impact of traditional fossil fuels progresses, LG Air Conditioning Technologies USA has expanded its robust portfolio of single- and multi-zone products with LGRED (Reliable to Extreme Degrees) technology.