october 2021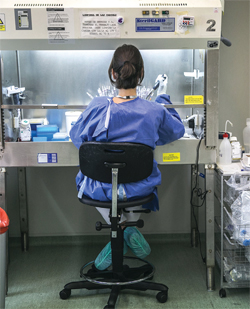 From museums to commercial buildings, to schools and hospitals, resilient flooring is a durable, functional material that can stand up to the wear and tear of high-use facilities. And the market is growing. According to a study by Fortune Business Insights, "The global resilient flooring market size was $29.62 billion in 2019 & is projected to reach $58.11 billion by 2027." Yet what if we could renovate some of this flooring material rather than replace it?

Resilient flooring is comprised of VCT (vinyl composition tile), sheet vinyl, LVT (luxury vinyl tile), linoleum, PVC, VAT (vinyl asbestos tile), and rubber floors. Historically it has served a more functional purpose, but new insights and systems are flipping the script and highlighting the benefits of resilient flooring in a new light. The material can be revitalized and renovated to change the color, add design elements, and even mimic the appearance of stone or terrazzo. Additionally, it can provide a healthier environment while also serving its functional purpose.
Renew for a More Sustainable Future
Every year, millions of square feet of resilient flooring is replaced. While some of it can be recycled, it still translates to a significant amount of material ending up in landfill. Full story »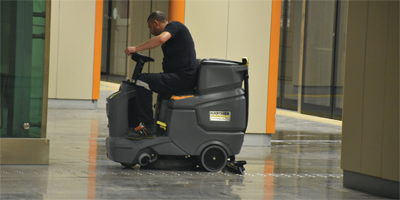 With demand for wellness supercharged by the pandemic,
the Global Wellness Institute held its first-ever Wellness Real Estate and Communities Symposium in September in Manhattan.
The all-day event was expressly designed to give attendees a comprehensive, cohesive view of the entire "building well" landscape. One cornerstone of which is new research from the
GWI, the International Well Being Institute, and the Center for Active Design on how the demand for wellness homes and communities has been supercharged by the pandemic. Full story »
today's news
LAS VEGAS -- The Institute of Inspection, Cleaning, and Restoration Certification (IICRC) recently elected its 2021-2024 Board of Directors and 2022 Executive Committee.
CHICAGO -- BSCAI has begun a new affinity partnership with Truvelop, a software-as-a-service performance management and development solution that provides an efficient way for BSC supervisors to manage employee performance and development while improving relationships.
BRAINTREE, MA -- The vision for proactive, infection prevention has been realized in the EvaClean solution with proven processes and safer, more effective cleaning technologies.
VISTA, CA -- Many parks and recreational facilities and schools will be closing soon due to the holidays and as colder weather approaches. Whether for a short or long time, managers must winterize the fixtures in these facilities before closing.
AKRON, OH -- GOJO Industries, the makers of PURELL products, has announced the recipients of a grant that helps qualifying airports seek GBAC STAR Facility Accreditation, the cleaning industry's only outbreak response and recovery accreditation for facilities.
BRONX, NY -- As North American workers and students begin to return to offices and classrooms, they can feel confident stepping back into elevators using purification devices powered by ActivePure Technology.