january 2023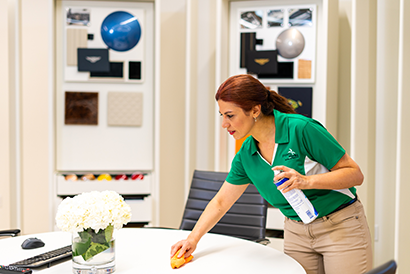 The HVAC industry has experienced rapid changes over the past year that have pushed professionals and manufacturers to rethink how they approach sustainability, building health and workforce development.

The pandemic magnified the importance of indoor air quality (IAQ) both at home and within commercial buildings. The potential effects of climate change backed by governmental policy have accelerated the need for energy-efficient systems that can help to support aggressive sustainability goals and reduce energy costs.

A waning workforce and continued supply chain disruptions are a source of on-going pressure within the industry as product demands grow. And yet, as both market conditions and the industry itself evolves, the future of HVAC remains positive with innovation and strategic planning guiding the way.

Johnson Controls explores the issues shaping the HVAC industry and shares best practices contractors and buildings managers can take now to meet these evolving industry standards.

Regulations and Energy-efficiency
After years of preparation, 2023 marks the launch of increased Department of Energy (DOE) standards for both residential and light commercial applications. It's critical that contractors understand which region they're located in – as specified by the DOE – and the types of products they can install based on the region's efficiency requirements. Regionality will also determine whether product compliance is based on date of installation or date of manufacture.

Heat-pumps are positioned to make a significant impact as decarbonization efforts advance. For example, the Johnson
Controls commercial building Energy Efficiency Indicator Survey revealed that more than a third of respondents plan to replace fossil fuel heating equipment with heat pump technology by the end of the year. Hydronic heat pumps are an energy-efficient alternative that can replace boilers to help reduce carbon emissions.

However, it's important to note that many air-source heat pump systems still need to include some form of backup or supplemental heat when building heating demands exceed capacity (when ambient outdoor temperatures drop too low to support optimal operation, for example). Supplemental gas heating may still be necessary to help maintain efficiency.
today's news
HOUSTON – Facility managers face several new realities requiring new mindsets, business models and technologies, according to IFMA's just released in-depth analysis of how changing organizational priorities are shaping the future of the built environment and FM roles.

HUNT VALLEY, MD -- Fidelity Building Services Group, a provider of technical building services, has named Daniel Weeden President/Partner of Fidelity Energy & Sustainability (FES), a new initiative focused on revolutionizing how energy-intensive facilities are transformed into sustainable environments.

CHICAGO -- Jon-Don, a provider of commercial supplies, equipment, and consumables, has announced three appointments to its executive leadership team.

EAST LONGMEADOW, MA -- Excel Dryer, Inc., manufacturer of the XLERATOR Hand Dryer, has promoted William Gagnon to executive vice president and COO with a seat on the board of directors.

LEWISVILLE, Texas -- Cleaning for a Reason, an ISSA Charities signature program that provides clean homes for cancer patients, will be working with Two Maids to bring more relief to cancer patients and their families.

MINNEAPOLIS -- Tennant Company, a designer of solutions to reinvent how the world cleans, has announced the first round of finalists in its fourth annual Custodians Are Key program.