April 2021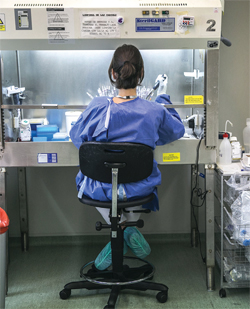 As we continue to navigate a world impacted by the COVID-19 pandemic, one lesson we have learned is the importance of adaptability amidst rapid change. What may have worked last year for facilities has drastically changed as we have all had to adjust to new methods of operating to keep ourselves and those around us safe and healthy.
Whether we run manufacturing plants, office buildings or retail and foodservice establishments, one common thread to keep in mind as we work on improving our facilities are the restrooms. What are some ways that facility managers can upgrade their restrooms as they look to a post-pandemic world? Let's explore two of the biggest trends.
Hygiene is, without a doubt, the most important factor to keep in mind when it comes to restroom changes. A key message emerging from this pandemic is that an easy way to reduce the spread of germs is to simply limit the number of surfaces a person must touch in a restroom. Because of this, touchless restroom technologies are no longer just nice-to-have, they are a necessity.
Now is the time for facilities of all sizes to consider making the swap to touchless technologies in their restrooms (and throughout their facilities, if possible). In the restroom, this could include touchless faucets, soap dispensers, toilets, and paper dispensers. Full story »
All resilient floor coverings require maintenance. How frequently the floors must be maintained depends
largely on the factors described below.
Following regular and well-planned maintenance programs protects the floor by reducing wear, preserves the floor's attractive appearance and ultimately increases its service life.
Before establishing a maintenance program, there are a number of factors that must be considered in order to determine the most appropriate, cost-effective methods to use. Armstrong Flooring, a maker of VCT floors and products to maintain them, said it is critical that the maintenance methods for each floor and area be chosen only after careful evaluation with regard to the following:
• Type of Flooring — It is important to know the type of floor before cleaning. Rubber or linoleum could be confused with vinyl, or luxury vinyl tile (LVT) confused with wood or laminate.
• Resources/Equipment/Chemicals/Personnel/ Budget
• Are well-trained maintenance personnel available?
• Are the appropriate pieces of equipment (scrubbers, buffers, mops, pads, etc.) available?
• Are the appropriate chemicals available? What is the budget? Full story »
today's news
BRONX, NY -- M&M Cleaning Services, LLC has announced a recent investment in the Clorox Total 360 System, an electrostatic sprayer, to provide more comprehensive surface disinfection coverage and help prevent the spread of germs on hard, nonporous surfaces that can cause illness.

SOUTHLAKE, TX -- Flagship Facility Services, a culinary, facility and aviation services provider, has named Marion Terrell Chief Diversity and Inclusion Officer (CDIO).

FALLS CHURCH, VA – The AIHA is praising the U.S. House of Representatives passage of the Workplace Violence for Health Care and Social Service Workers Act, a key step towards providing health care and social workers with the workplace protections they desperately need.

BOSTON and KINGSTON, RI -- MOO Inc., the digital print and design company, announced a year-long collaboration with The Ocean Agency to raise awareness of how plastic-containing PPE is exacerbating the ocean pollution crisis.

BRAINTREE, MA – EarthSafe, a provider of healthier and safer disinfection chemistries and advanced electrostatic sprayer technologies, has further enhanced its end-to-end infection prevention solution with the addition of the EvaClean Dry Wipes System.

ATLANTA -- Leading healthcare improvement company, Premier, has awarded GP PRO, a division of Georgia-Pacific and a provider of hygienic healthcare solutions, a contracted position for its Soaps, Lotions and Waterless Hand Rinses category.

NEW YORK -- SL Green Realty Corp., Manhattan's largest office landlord, has earned the WELL Health-Safety Rating across its entire 23 million square foot core portfolio, including One Vanderbilt Avenue, SL Green's headquarters and the skyline defining tower in the heart of East Midtown.