May 2021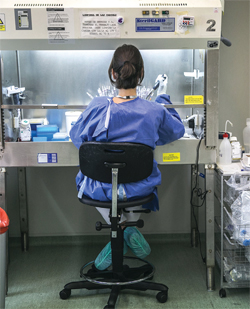 "An ounce of prevention is worth a pound of cure." — Benjamin Franklin 1736
Since the Justinian Plague of 541 A.D. in the Eastern Roman Empire, much has occurred, not excluding the rise of transportation and importance of worldwide travel for commerce and pleasure. With this occurrence, so has the reduction in time it takes for continental and global spread of novel infectious diseases.
For that reason, pandemics have become more frequent and will continue to occur well after the Covid-19 pandemic has passed. In the meantime, it is important to use all measures available to combat those pandemic processes which remain. Whether Bird or Swine flu, MERs or SARs, Covid-19 found a species without immunity, willing to assist in its spread.
By using masks, social distancing, handsanitizers and disinfectants, an approach was established on reducing the spread of infectious disease. Each approach however does have their limitations.
For example, the N95 mask filters 95 percent of particles 0.3 microns in size or larger; Covid-19 is 0.13 microns and is
smaller in size. Covid-19 mostly travels by respiratory droplets, and even if people do wear masks, the particles can still exit out the side; and with some masks, through the material itself.
Once landing on a variety of surfaces, it can live and be infectious for up to three days, positioned for contact spread. Like all microbes, they remain a dangerous and invisible enemy when given the right circumstances.
Hand sanitizers and traditional disinfectants remove the microbial footprint as it exists, but once dried, their ffectiveness ends until reapplied. Unintentional recontamination of the surface and then to the hand becomes a tool of transmission through eyes, nasal and oral passages. Full story »
Before
After
The Challenge
The sheet vinyl floors in Kaldec Regional Medical Center's medication room receive extensive wear and tear from heavy foot traffic, transportation of medical equipment in and out of the room, and harsh chemical cleaning from disinfectants. When it came time to replace the floors, the original plan to hire an outside contractor and tear out and replace the floor meant that the medication room would be in accessible for 3 days along with a cost of more than $7000.
The Bona Commercial System™ Resilient Flooring Solution offered an alternative for the 150 square foot room to quickly update floors, with minimal downtime and substantial cost savings. Full story »
today's news
IRVING, TX -- Excitement has been building in anticipation of the in-person event in Las Vegas for the International Roofing Expo (IRE), an Informa Markets event.

ALEXANDRIA, VA -- The Pool & Hot Tub Alliance has announced that Pentair is joining forces with National Water Safety Month (NWSM) to raise awareness about water safety and highlights the importance of public education regarding safe practices around water.

HORSHAM, PA -- Three in five Americans say automated paper towel dispensers in public restrooms would improve their perception of a facility's cleanliness, according to a survey commissioned by Sofidel, a global provider of paper for hygienic and domestic use.

SCHAUMBURG, IL -- As one of the largest construction insurance providers in the U.S., Zurich North America is sponsoring 2021 Construction Safety Week from May 3-7, emphasizing that attention to workers' mental health and guidance on COVID-19 are critical aspects of on-the-job safety. 

WAYNE, PA -- Crothall Healthcare, service provider for hospitals, has announced its Healthcare Technology Solutions (HTS) division has launched teamCHAMPS, a modern, cloud-based Computerized Maintenance Management System (CMMS) powered by Nuvolo.

OVERLAND PARK, KS -- A coalition of water safety partners, along with dozens of other water safety groups, will work together to promote May as National Water Safety Month.

ST. LOUIS -- 4M Building Solutions has acquired Janitron Maintenance Management Services, Inc., 4M's sixth major acquisition in the past four years.

CHADDS FORD, PA -- RWS Facility Services, a provider of comprehensive managed facility services, has appointed industry veteran Tom LaMartina to the role of vice president of facility managed services.