june 2023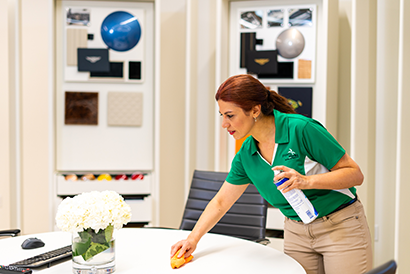 Oral fluid drug testing in the workplace is on the rise. A 2021 survey of drug testing providers revealed a dramatic increase in the percentage who now say they offer oral fluid testing, from just 17 percent in 2019 to 45 percent in 2020 and 63 percent in 2021. Meanwhile, a 2021 survey of employers found that 43 percent cited "recent-use detection" as a key reason for their interest in oral fluid testing.
Oral fluid is legal in nearly all circumstances. This change in acceptance of an alternative to traditional lab-based urine testing likely has a lot to do with recent developments within the federal government. In 2022 the U.S. Department of Transportation (DOT) issued a Notice of Proposed Rulemaking (NPRM) for labbased oral fluid testing.
Though some probably doubted DOT would ever make such a move, the NRPM had been anticipated since the Substance Abuse and Mental Health Services Administration (SAMHSA) issued final Oral Fluid Mandatory Guidelines (OFMG) in October 2019 to give federal agencies the option of oral fluid testing in addition to lab-based urine testing.
The new guidelines have a direct impact on many state drug testing laws. Prior to SAMHSA's announcement, labbased
oral fluid testing was already permitted in 47 states with Vermont, Maine and Hawaii being the only exceptions. Yet
other states, especially those with voluntary drug testing laws such as Tennessee or industry-specific laws like Illinois simply
punted on the issue of how to conduct drug testing and deferred to SAMHSA's guidelines or the DOT regulations as found in 49 CFR Part 40.
The DOT's NPRM will likely have the greatest impact on the availability of labbased oral fluid testing. In a 2020 survey of providers, 60 percent said they "will offer lab-based oral fluid drug testing when DOT adopts oral fluid guidelines;" only
9.5 percent said they would not, while 19 percent were undecided.
Benefits of Oral Fluid Testing
While the legality of oral fluid testing is certainly important, if it didn't solve problems employers experience with
urine testing it would not be growing in popularity. When SAMHSA issued its OFMG, it listed several reasons why the
agency decided to endorse an alternative testing method after more than 30 years of only allowing lab-based urine testing.
The reasons correlate directly to problems some employers experience with urine testing and extend beyond the
SAMHSA/DOT sphere. For instance:
• Enhanced flexibility— Employers can choose between urine or oral fluid; whichever specimen is best suited to a
particular situation.
• Enhanced versatility— Oral fluid collections can occur anytime, anywhere, and most of the precautions needed for
urine collections are unnecessary with oral fluid.
• Decreased invalid tests— Oral fluid collections are 100 percent observed, which substantially reduces the risks of substitution or adulteration.
• Saves time— Oral fluid collections can occur at or near the place of work, reducing the time needed away from work to void a urine sample at an off-site location.
• Versatility in detection— Oral fluid testing is capable of detecting drugs within minutes after ingestion. Full story »
today's news
ARLINGTON, VA -- The Air-Conditioning, Heating, and Refrigeration Institute has reiterated indoor air quality tips for homeowners given the current air quality issues in the northeast and mid-Atlantic states resulting from the Canadian wildfires.

VERSAILLES -- Energy efficiency is a key tool to curb energy demand, ensure energy security and mitigate climate change, but it continues to be ignored in the net-zero narrative.

LANCASTER, PA -- To ensure the comfort and safety of their employees when opening a new restaurant, Leeann and Taylor mason, sought a flooring solution for the kitchen that was ergonomic, restorative and slip resistant.

WASHINGTON – The American Red Cross, a provider of AED and life-saving training, has awarded six athletic trainers from the Buffalo Bills the Certificate of Merit for their actions to save Damar Hamlin, who collapsed on the field from cardiac arrest during a football game.

HORSHAM, PA -- Sofidel, a provider of paper for hygienic and domestic use, is making its Nicky brand, well-known across Europe, available to consumers in the United States.

OCEANSIDE, CA -- Kellermeyer Bergensons Services, a trusted partner to operations and facility managers across North America, has named seasoned operational executive Ray Aschenbach its new Chief Operating Officer.

FREMONT, CA -- Innovative options for mounting, customization, and true mobility can help to maximize usable space and productivity in cramped facilities.