January 2021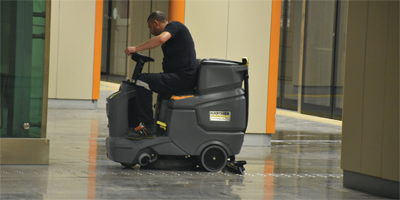 If there's one theme that's been consistent since the pandemic began, it's uncertainty. From budget turmoil to employee safety, many of us are adapting on the go to this long-term crisis, and facility managers have become central to identifying and implementing solutions for organizations looking to reopen their doors to employees and customers.
While there are many issues that still have no clear solutions, facility managers can take advantage of some valuable lessons learned so far. These solutions provide clarity that allow you to promote facility wellness and give occupants reassurance that you're taking their health seriously.
According to a recent survey by LinkedIn and Censuswide, 57 percent of employees are concerned about safety when they return to work.1 For many organizations cleaning is an out-of-sight activity, usually performed outside of business
hours. Employees take for granted that door handles and elevator buttons have been wiped down. As long as trash
cans are clean and restrooms are stocked, they typically won't raise concerns about cleanliness.
With COVID-19, that has changed. As you adopt a disinfection program, make sure to include ways to indicate that you're taking precautions to mitigate the spread of infection. That can come in the form of signage or placards that indicate that an area has been disinfected. You can also incorporate disinfection services during business hours, so employees can see that cleaning personnel are periodically covering high-touch points and ensuring that hand hygiene products are always stocked.
Surface Disinfection Still Matters
We're still learning about how COVID- 19 behaves, particularly how it spreads from person to person. Experts have been
able to confirm that the virus spreads through aerosol transmission, which may lead some to believe that they can relax their surface cleaning protocols. But the guidance from leading health organizations is to the contrary.
today's news
CHICAGO -- Dyson has unveiled a cord-free vacuum engineered as an out-of-home cleaning solution for professional settings, the latest technology from Dyson engineered to help create a cleaner, more hygienic environment.
HAMILTON, OH -- Last year was a challenging year for many cleaning contractors. Due to the pandemic, all types of facilities began shutting down. If facilities are closed, they do not need cleaning, negatively impacting cleaning contractors.
MINNEAPOLIS -- Graco Inc., a manufacturer of fluid handling equipment, has introduced a new cordless, disinfection system that includes the most powerful airless and electrostatic spraying capabilities for the ultimate flexibility and portability to quickly handle every disinfecting job.
FLORENCE, AL -- Schneider Electric , a sustainable energy expert, has partnered with the Florence-Lauderdale Public Library to reduce its energy costs by 32 percent and generate over $1.5 million in energy and operational savings over the next 20 years.
MIDVALE, UT -- Allied Universal, a security and facility services company, is looking to hire more than 500 security professionals in Utah, and will hold an open house hiring event on January 26 in Midvale, Utah.