march 2023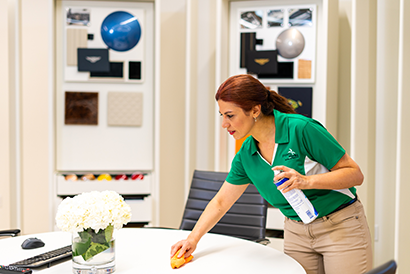 As pandemic protocols drift from the headlines and employees begin to reimagine life at the office, many questions come to mind, including: how clean will my office space and air be?
This is a question and concern for many today, but there are a few things to take into consideration, especially as we continue to deal with Covid-19 cases and other viruses on a daily basis.
"As they contemplate returning to the office, the American worker's expectations have shifted from visibly clean to
microscopically safe," says Dija Ziane, Head of Facility Services Division at- Grupo EULEN. "We are living in a world where there is a war for talent and corporations are investing in amenitizing their office spaces and offering employees perks to lure them back into the office— a high level of cleanliness should be one of them."
According to Harvard Business Review, with the U.S. turnover rate projected to jump nearly 20% in 2022 over the pre-pandemic average, according to Gartner, and 31% of American workers actively thinking about or looking to leave their organization, companies that don't adapt risk losing their employees to the competition, said KPMG.
"As we head into a recession, corporations need partners that will not cut costs but that will leverage innovations and deliver
tailored solutions," Ziane added.
Clean does not mean pristine white anymore—the pandemic taught people much more. The industry of facility services
is ramping up and gearing towards an awakening where employees expect the grade of cleanliness seen in hospitals.
If employees do not feel comfortable at their workspace or coming into work five days a week because they don't feel safe, chances are they will leave to another working environment.

The facility services industry offers technologies that will help make sure that the office and public spaces are safe and clean focusing on cleaning with process optimization. These processes
usually include Sanitizing & Electrostatic Spraying technology and registered EPA Chemicals, providing clean, disinfected,
and sanitized facilities in compliance with CDC and OSHA recommendations.
Covid-19 is not the only virus that haunts us. According to the Centers for Disease Control and Prevention (CDC), the overall burden of influenza (flu) for the 2021-2022 season was an estimated 9 million flu illnesses, 4 million flu-related
medical visits, 100,000 flu-related hospitalizations, and 5,000 flu deaths.
New Realities of FM
Facility managers face several new realities requiring new mindsets, business models and technologies, according to
IFMA's just released in-depth analysis of how changing organizational priorities are shaping the future of the built
environment and FM roles. Full story »
today's news
ATLANTA -- The CDC has warned that Candida auris is spreading rapidly through U.S. health care facilities.

AUSTIN, Texas -- Spruce, a lifestyle service provider to the multifamily industry, has officially crossed the one million unit mark in terms of its national footprint.

MENOMONEE FALLS, WI -- 'Go wash your hands' is a phrase used frequently in households throughout the country. However, according to a recent Healthy Handwashing Survey, only 25 percent of parents actually believe their children always wash up when they tell them to do so.

CLEVELAND -- Winter Equipment, a provider of products for municipal snow and ice management, has developed a carbide cutting edge tool for the underbody of a plow for use on concrete, chip-seal asphalt and gravel.

DALTON, GA -- The scoreboard on the Houston Astrodome read "You are about to witness an historic event," on March 21, 1966, to commemorate the first major league baseball game played on a synthetic surface.

ENGLEWOOD, CO -- With Spring here, cleaning and sprucing-up is top of mind, and a recent online survey of more than 1,000 adults in Canada found that nearly 2 in 3 adults plan to deep clean this spring season.